Employee Skill Kit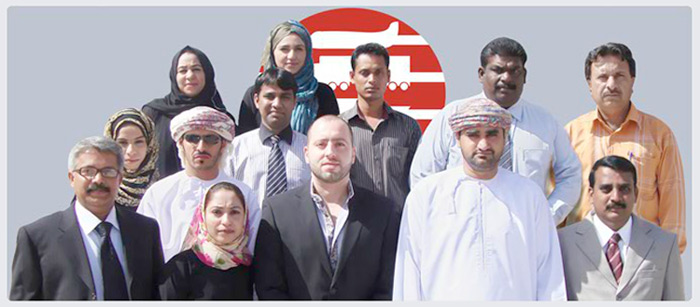 The operations at Hal Services is being steered and headed by highly talented and experienced professionals who have proven track record in the field of Oilfield Logistics and Transportation. We have over 160 highly dedicated staff/ field staff to support the operation in various levels. Employee development and skill enhancement has often been our core focus, continuous appraisals, mentoring and competency mapping enables us to indentify talented resources. These talented resources are further moved up the ladder and motivated towards higher performance. Besides we have also been assuring a competitive Omanisation rate of over 70% within the organization, wherein talented Omani staffs are encouraged to take up challenging tasks.
We have well qualified and experienced management staff dedicated for the service of the company to lead and guide the operational staff round the clock.
Reeman Ali al Zadjali

Administration Manager

Reeman Ali takes care of all administrative related works at Hal Services - A certificate holder from University of Cambridge ESOL & IELTS- Bangalore, India in International English Language Testing system. She acquired ample experience in the field of Human resources, while also having adequate knowledge in the functions of local Government, Municipalities, directorate general of passport & residence, traffic, civil defense activities & public social security.

RADHAKRISHNAN.P.P. (RAJU)

Finance Manager

Radhakrishnan has been with Hal service since the year 2000 - Talented professional having experience with various reputed group companies in Oman for over two decades. A highly dedicated and motivated individual, who often exhibits a positive attitude and a good sense of responsibility in accomplishing the set targets. His experience and knowledge has definitely gone a long way in contributing to a stable and healthy financial position in the organization.

Naveen. T

Operations Manager

Naveen has been with the company since 1996 and in his career spanning over 13 years with Hal Services worked as manager for procurement & logistics. Considering his extensive knowledge backed by his 13 years experience at Hal, he now heads the complete Operations. He played an active role in establishing Hal Services as one of the leading transporting company in Oman.
RAJESH.P.M

Operations Manager

Rajesh is responsible for the entire fleet operations within Oman and the entire region of Middle East. Prior to joining Hal Services he has worked with several large companies in Bangalore India. He has also rendered services to Juma al Majid , Dubai in the capacity of sales executive for over 8 years.

SARFARAZ SAMEER

Accountant

Sarfaraz Sameer handles the accounts of Hal Services. Young commerce graduate from Mumbai University having a diploma in industrial accounting. He is a former staff of Soorya Group of companies Mumbai and has gained exposure in all aspects of accounting.

Team Member

Marketing Manager

A wonderful serenity has taken possession of my entire soul, like these sweet mornings of spring which I enjoy with my whole heart. I am alone, and feel the charm of existence in this spot, which was created for the bliss of souls like mine. I am so happy, my dear friend, so absorbed in the exquisite sense of mere tranquil existence, that I neglect my talents. I should be incapable of drawing a single stroke at the present moment; and yet I feel that I never was a greater artist than now.

Vidheyesh babu

Ass.Operations Manager

Salim Al Rawahi

Journey manager

Prajil Kottarathil,

IVMS Monitoring /Operations

Varun

I T Department / Operations

Irfan Salauddin

Base Manager (Nizwa)
SAFETY is our first and foremost concern in all our operations. Safety training is an ongoing practice in our company. Hal Services is having an excellent record of safety operations with no LTI for more than six years.
Staff & Facility
We have a total number of 194 staff members at different levels including drivers and mechanics. To comply with the rules and regulations of the Oman Government and Petroleum Development of Oman, 70% of the staff is Omani National.
Facility
We have a well furnished office facility measuring 10,000 square meter area at Misfah Industrial area (Near Oman Cement Company) along with a comfortable lay down yard, Mobile container Ramp facility with enough parking area for the heavy goods vehicles. Also well equipped garage and spare parts store facilities is a part of it with experienced mechanics & stores staff.
We have a branch office at Al Aqar with experienced personals to control the trucks and shipments plying between Oman and other GCC countries. This office has fully furnished two spacious room make use for drivers/operators to rest and continue their journey. We have a full time PRO at our Aqar office to assist the truck drivers in the event they face problems at the boarder check post.
To control the field based operations, we have an office, and well equipped workshop and yard measuring 2000 square meter area at Fahud adjacent to customer base to provide fast and time bound services by our technically qualified and experienced staff those who are fully dedicated to execute jobs include foreman, mechanics, auto electrician, driver, mechanical helper,etc .we also keep stand by trucks and towing vehicles to use them on vehicle break down call.
Also we have a temporary office and workshop facility at Nimr field areas to provide repair/maintenance to our vehicles/equipments on contract with a full fledged team of Forman, mechanics, auto electrician & mechanical helpers.